Cannot claim a blog
So you wanted to claim a blog and the the system came back stating something like:
URL is already registered
as shown in the screenshot below.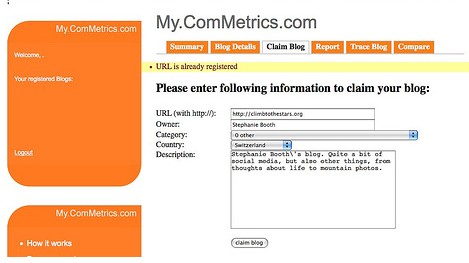 For starters, this is actually a nice message. It means that somebody else has entered your blog into our database. No they have not claimed it as theirs but because they wanted to compare themselves against your blog, they entered your blog's URL into our system to trace.
In turn, we may have been collecting data about it for a while (see also database – what is being tracked and included). As a result, we can provide you with some pertinent information allowing us to compare your blog(s) with several others (trend data) from day 1.
Another possible error message might look like this:
Hi
Sorry, there was a problem activating your blog:
We were unable to find the activation code in the HTML of your blog.
Please check the URL that you entered for your blog.  If your blog resides directly under a subdirectory (e.g.http://my.blog.com, http://www.me.com/blog/), please ensure that you have added the trailing slash (i.e. the/).
===> In the above instance, we suggest that you
a) check first if you copied the complete code including brackets into your latest (most recent) blog post using the html editing window to do sob) if you ask our system to check and you get the above error message again, please visit your blog and copy the url showing in the browser navigation bar into  the URL slot (see above screenshot).c) you may also want to view the video we have for claiming a blog you find here: Step 2: Claim your blog with video

d) another venue for quick help is visiting our User forum (find out more about it, our guidelines, and registration). Incidentally, your MyComMetrics login works there as well, nice and easy.
The user forum is a great place to answers to pesky problems on your own or bring issues you have run into to our attention. Plus, it's a great way to get in touch with other users.
Visit forum.commetrics.com and post using your MyComMetrics login.
If all the above just fails to do the trick do as follows:
1) if you can take a screenshot of what error message you got – send it to us at Info at CyTRAP dot eu2)  if you prefer fill out our contact form here ==> problem with ComMetrics web-based software – need help NOW3) please remember to include any other pertinent information (e.g., a copy of the exact code you put on your blog to allow our crawler to find it and confirm that you own the blog)

4) Call us or chat with us online using Google Talk – send us an invite to ComMetrics.VoIP.Clients right from within Google Talk and we will get in touch with you (chat/voice).
Thank you for your help and we will definitely try to help as fast as we can.