Monthly update
As a subscriber of My.ComMetrics.com you are offered intelligent tools delivered to your e-mail inbox – supporting your efforts for getting from A to B cheaper, faster and safer.
What information does the monthly update provide?
The monthly update provides you with critical snapshot of your benchmark statistics for the list of the blogs that you have claimed as an owner. In the list below these are four blogs.
Second, for each blog you are provided with numbers as follows: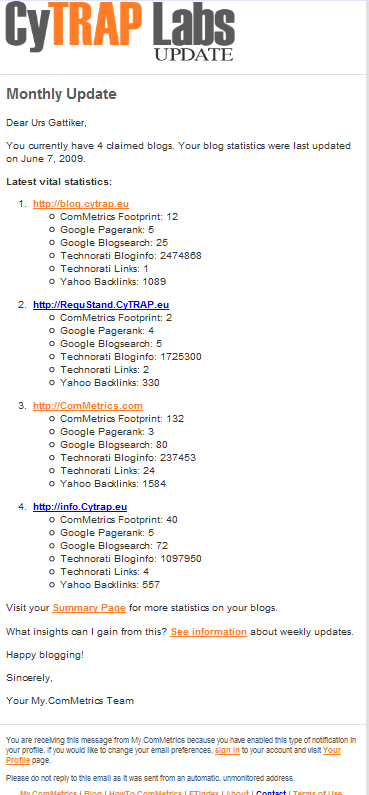 –  ComMetrics footprint (the lower the better) – how it changed, this index is made up of:
–  Google PageRank (the higher the better),
–  Technorati Authority (higher is desirable),
–  Technorati Ranking (lower is better),
–  Yahoo! InLinks (the more the merrier) and
–  Google Blog Search (the more the merrier)
Hence, the monthly update tells each user what kind of statistics pertaining to one's blogs  may have changed. One can get more detail by clicking on the link Summary Page – after logging in with one's Username and Password, one is then provided with the additional information as listed on one's personalized Summary Page.
What do these changes mean?
Important is to consider that each one of your blog's ComMetrics footprint is calculated based on the blogs we have in the same category. We compare apples with apples and not apples with oranges. So when you claim your blog it is important to choose the category that suits your blog's focus the best (e.g., is it a PR blog or is it an HRM or tech gadget blog).
Sometimes things fluctuate quite a bit in a month and it might also be useful to look at the trend charts or else the quartler or annual trends.
Can I get more information?
Finally, at the bottom of the weekly update you get some hyperlinks that allow you to connect quickly and easily to the different areas that you need to work better with the web-based My.ComMetrics application.
If you have any comments about your monthly update you can always do this by:
–  filling out the contact form,
– visiting the User Forum page and post your inquiry, or
– why not leave a comment right here – below?
More information that might be of interest to you as well can be found here:
– real-time alerts, weekly updates
–  new features – helping you get to get quickly where you want to go safely
–  get the indicators explained – ComMetrics footprint Google PageRank, Technorati Ranking, Technorati Authority, Yahoo! InLinks and Google Blog Search, and
– information to consider when interpreting data: context, time periods, last update, dashboard

You can receive these updates by changing your user profile on  My.ComMetrics.com – login and then click on Your Profile move down to Notifications – tick those boxes that provide you with the updates you wish to get at time intervals most helpful to you.