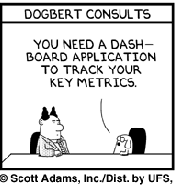 May has been a really busy month for us. As the cartoon to the left illustrates, we talked with Dogbert and convinced him to help us come up with some nice additional features for your dashboard.
Our work with the folks at the Financial Times has also yielded satisfying results. You can get more information on our collaboration in the following posts:
– FT ComMetrics Blog Index published
– FT ComMetrics Blog Index released: KISS the blog-bride
– FT ComMetrics Blog Index: How we found you
– FT ComMetrics Blog Index: The winners are
– FT ComMetrics Blog Index: Just do it – right
Incidentally, to be notified about new features, tricks and tools first, why not enter your e-mail here and get on our VIP list:
Here is what is coming your way: My.ComMetrics.com real-time trace updates or, who is Googling you – creepy or useful?
Alerts can be a good thing. For instance Ziggs.com alerts you when someone looks up your CV online.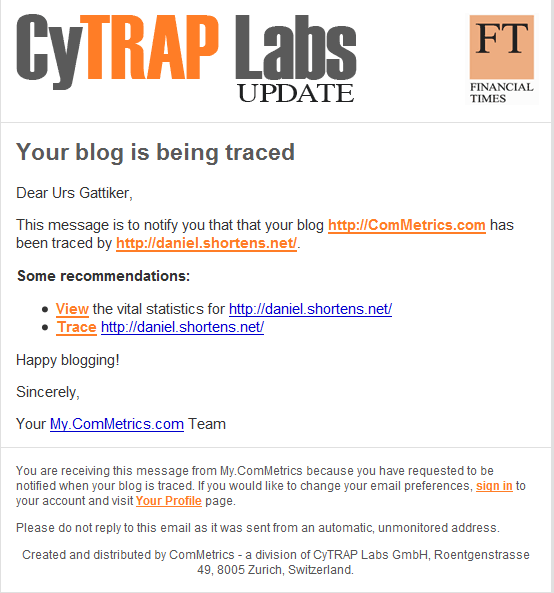 Real-time trace updates from My.ComMetrics.com are similar to Google Alerts or those from Ziggs. As the subscriber, you get informed when someone decides to add your blog to their dashboard. Hence, your blog's performance is now being compared with that attained by another blog that covers a subject area similar to yours.
Additionally, the real-time trace alert provides the recipient with such information as:
View the vital statistics for http://daniel.shortens.net/ – by logging on you can see some of this 'other' blog's performance indicators (i.e. how well this corporate blog is performing)
Trace http://daniel.shortens.net/ – logging on automatically adds this blog to those we trace on your behalf so you can find out who is doing better.
Please let us know your reactions and comments about this; what do you think? Are there other features you would like? Thanks for sharing.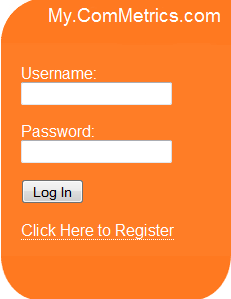 To see how well your blog strategy works register your blog here:
My.ComMetrics.com – benchmark your blog – improve your score – sign up for FREE.
You can also follow us on Twitter 
MyComMetrics.
PS. Find out how My Tools can get you the vital blog statistics delivered the way that suits you the most – save time, money and blog more effectively.