Blog Benchmark für mehr Resonanz
Wie kann ich als Kunde den CyTRAP BlogRank besser nutzen?
Auf welche Trends und Charts sollte man gucken?
Wir skizzieren die neuesten Entwicklungen und zeigen auf, wie man das Tool effektive nutzt. Präsentation-Slides sowie ein YouTube Video sind Teil dieses Blogbeitrages. Übrigens, aufbauend auf diesem Blogeintrag gebe ich im März 2014 einen Workshop am Careum Congress in Basel.
Schlagwörter: Benchmark, Kommunikation, Measurement, Marketing Mix, Strategie, Ratgeber, Resonanz, Searchability, Social Share, Trend, Usability, Word-of-Mouth Marketing
Abonnieren Sie wie 1500 andere unseren Newsletter zum Thema:
Neue Dienstleistungen mit dem CyTRAP BlogRank!
1. Wie tracke ich meinen Blog? KPIs
Jeder Kunde – ob Freemium oder Premium – kann das Dashboard anklicken um einige Basis Informationen über seinen Blog zu erhalten.
Premium Kunden haben ihr persönliches Set von Blogs, welches wir für sie beobachten. Im Falle eines Weltkonzerns (z.B. ein Unternehmen der FT Global 500) können dies z.B. über 100 Blogs verschiedner Länderorganisationen und Tochterunternehmen sein. Diese werden dann vielleicht mit über 1000 weiteren Blogs von anderen Unternehmen verglichen.
Premium Kunden klicken auf KPI im Reiter und erhalten dann ein Set von Daten für Ihren persönlichen Blog und diejenigen gegen welche sie sich vergleichen möchten.
Zusätzlich zu den Daten werden Grafiken mit Trendvergleichen aufbereitet, wie z.B. 2012, 2013 und 2014. Dieser Trendvergleich erlauben dem Nutzer auf einen Blick einzusehen, wie der Blog sich im Vergleich zum Vorjahr entwickelt hat. Ebenfalls erhält der Kunde Blog Daten über die letzten 5 Jahre. Diese Daten zeigen dem Nutzer, wie gut sich der Blog im Vergleich zur Konkurrenz entwickelt hat (z.B. werden unsere Beiträge mehr auf Facebook oder Twitter geteilt?).
Lesenswert: Best business model: Free to use, pay to play
2. Auf was sollte ich achten?
Wie meine Ausführungen im Video zeigen, sollten Sie vor allem auf die Trends achten. Wenn im Juli die Zahlen sinken (Ferienzeit), ist es interessant folgende Fragen genauer zu evaluieren und zu diskutieren:
1   Sinken oder steigen auch bei anderen Blogs die Kennzahlen im Sommer?
2. Sind unsere Benchmarks dieses Jahr besser als im letzten Jahr?
3. Sind die Inhalte oder die Themen (oder deren Presentation) im Monat Juli anders als z.B. im Monat Mai?
usw.
Dank der Kennzahlen und mit Hilfe einer vertieften Analyse (siehe z.B. Fragen oben), wird es möglich sein die notwendigen Anpassungen vorzunehmen um damit die Leistung nochmals zu verbessern.
Video CyTRAP BlogRank – so nutzen es die Profis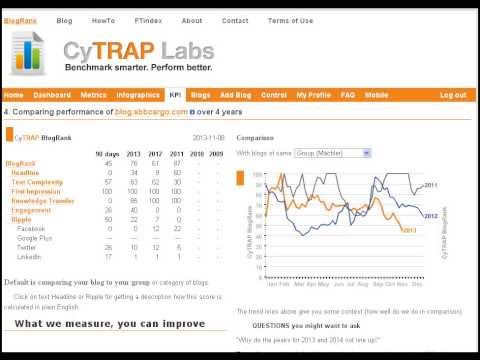 Hier finden Sie mehr Informationen zum Ranking, wie auch Angaben zur Methodik für den CyTRAP BlogRank (Statistik). Unten sind die Präsentations-Slides.
Weitere CyTRAP Beiträge zu Corporate Blogging, Strategie, Recruiting, Markenimage, Social Media Audit (anklicken – Suchauftrag wird ausgeführt).
Wie sind Eure Erfahrungen mit dem Benchmarking von Ihren Blogs?
Gibt es Features welche – wenn wir diese einbauen – Euch als Blogger helfen könnten?
Freue mich wie immer über Euer / Ihr  Feedback in den Kommentaren unten. Danke
---
---