In short, our updated software – release 0.4 – allows for more variables in the chart builder, trendwatches (e.g., 2010 with 2011) and more clearly illuminates where to improve what.
My.ComMetrics.com is a software-as-a-service (SaaS) application, which means you do not need to install anything on your end. We host and operate the application over the Internet for your use. This allows you to access our software virtually as and when you need it to track your blog's performance.
This is the tool that prominent bloggers have made the talk of the town.
Article source – My.ComMetrics.com update: Release 0.4
We have been diligently working on improving our blog benchmarking software, so we can now provide you with additional useful features, such as:
– trends (now also across years),
– language, paragraphs, writing style, and
– resonance (links, conversation, etc.).
Read on, but first, sign up for the My.ComMetrics Software updates be the first (very irregular posts, don't worry, no chance getting inundated).

Below is one of the many charts that our updated program offers – as soon as you are logged in you are shown the impact page.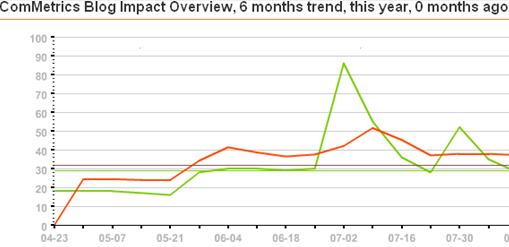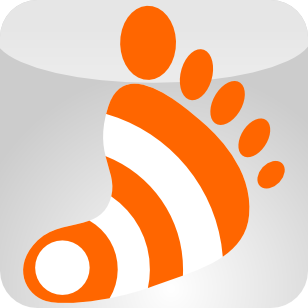 If you have not yet signed up, do so now to compare your competitors' blog performance, watch the trends and improve performance with My.ComMetrics.com. We at CyTRAP Labs can help you improve your social media efforts.
Signing up for My.ComMetrics.com is the safe choice, because it's free to try as a freemium user. Why not take us for a test drive?
– 3 minutes to sign up with My.ComMetrics,
– 4 minutes to claim and track your blog,
– 5 minutes to track your competition, and
– Read our free article, Corporate blog definition: 4 essentials
We created a short (1:45) video to show you how the new features can help you in the minimum amount of your valuable time (German version further below) (you can watch and share the video on Facebook).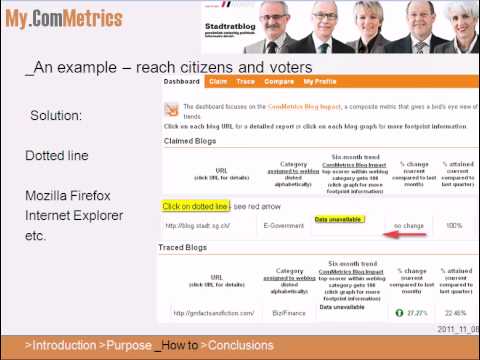 German version – watch and share the video on Facebook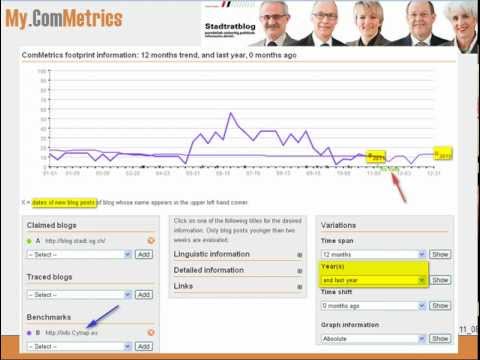 The above illustrates what makes My.ComMetrics.com invaluable, because it tells you where to start looking, allowing you to decide what to change first to improve performance the quickest.
Not only do you get your scores for each metric reported (Page Weight – 21, and Page Proximity – 84, above), but you also get a comparative score for the Fortune 100. This is perfect because it enables you to get your executives to take action. No one wants to look bad in comparison!
Please give us your opinion; tell us about your experiences in a comment below!
TL:DR
@MyComMetrics says: software update – take 2 min to check out new features: release 0.4 | 
Tweet This
You can view and share the slides on LinkedIn or view them right here and click on the additional resources links within the presentation: