Whose corporate blog is number 1?
How it was: You dabbled in social media as a corporation, with a wait-and-see attitude.
Today: Benchmark your blog against the best – how do we rank?
The corporate blog benchmark from the Financial Times and CyTRAP – check it out here.
Keywords: KPI, marketing, measure for impact, ROI, social media audit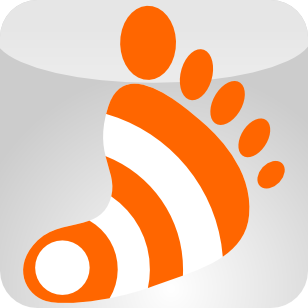 The
CyTRAP BlogRank
 is a measure made up of statistics that help rank blogs. Of particular interest is how blog content is shared with others and whether these blog entries elicit comments – engagement – from users.
Fiat's Luis Chilmingras, head of digital innovation and telematics, put it well when he said:
"You can't reduce [fuel consumption and emissions] if you don't measure."
Fuel consumption shows the driver how they have been driving. In turn, errors in braking or acceleration become obvious when one tracks gas mileage, fuel economy and carbon dioxide emissions.
Similarly to Nike or Fiat, looking at the indicators and measures that make up the CyTRAP BlogRank tells one where performance can be improved and how.
For now we have improved the information you get for blogs from the largest corporations in the world – think FT Global 500 or Fortune 500. The screenshot below shows the top 10 blogs last week. Surprisingly enough, it is not US corporate blogs that outshine everybody else but a mixture (click table for more information).

In addition we now also provide information that ranks these and others, such as fashion blogs, over a three- or four-year period to see how well they are doing. In the list below, the Wall Street Journal's Mossberg blog has ranked in the top 10 for the last four years – no other FT Global 500 blog comes close (click table for more information).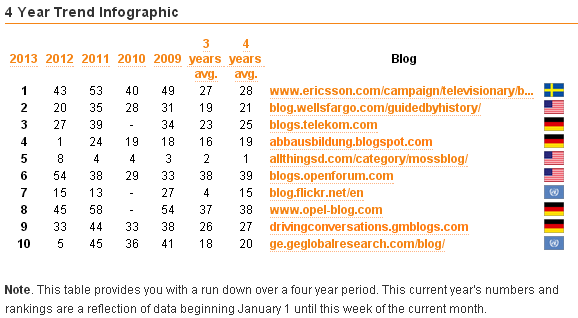 By the way, sign up for our blog – it is FREE! Get future news about improvements to our FREE software first.
In June, I will report here about the new dashboard that provides a heat map, graphics and much more. Stay tuned AND register yourself to get your own dashboard for free.
Once again, thank you very much for your participation. And as always, I love to hear what you think!
TL:DR | @CyTRAP and @ComMetrics writes: FT CyTRAP BlogRank 2013: What are the trends?
Do you have a question? Please, drop me a line below.
---
The author: This post was written by social media marketing and strategy expert Urs E. Gattiker, who also writes about issues that connect social media, strategy, ROI and complianc (click Google Scholar or else  Microsoft Scholar), and thrives on the challenge of measuring how it all affects your bottom line.
His latest book, Social Media Audit: Measure for Impact, was recently published by Springer Science Publishers; he is currently working on his next book, scheduled to appear before the end of the year.
Connect with ComMetrics on Google+ or the author using: Email | Twitter | Google+ | Xing
---